Moose in deep snow~ right in Town off Tonahutu.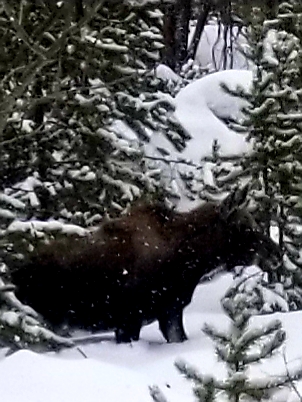 Click here to download our 2023 Grand Lake Calendar with scenic photos from the area!
Canal into Grand Lake on the morning of January 8th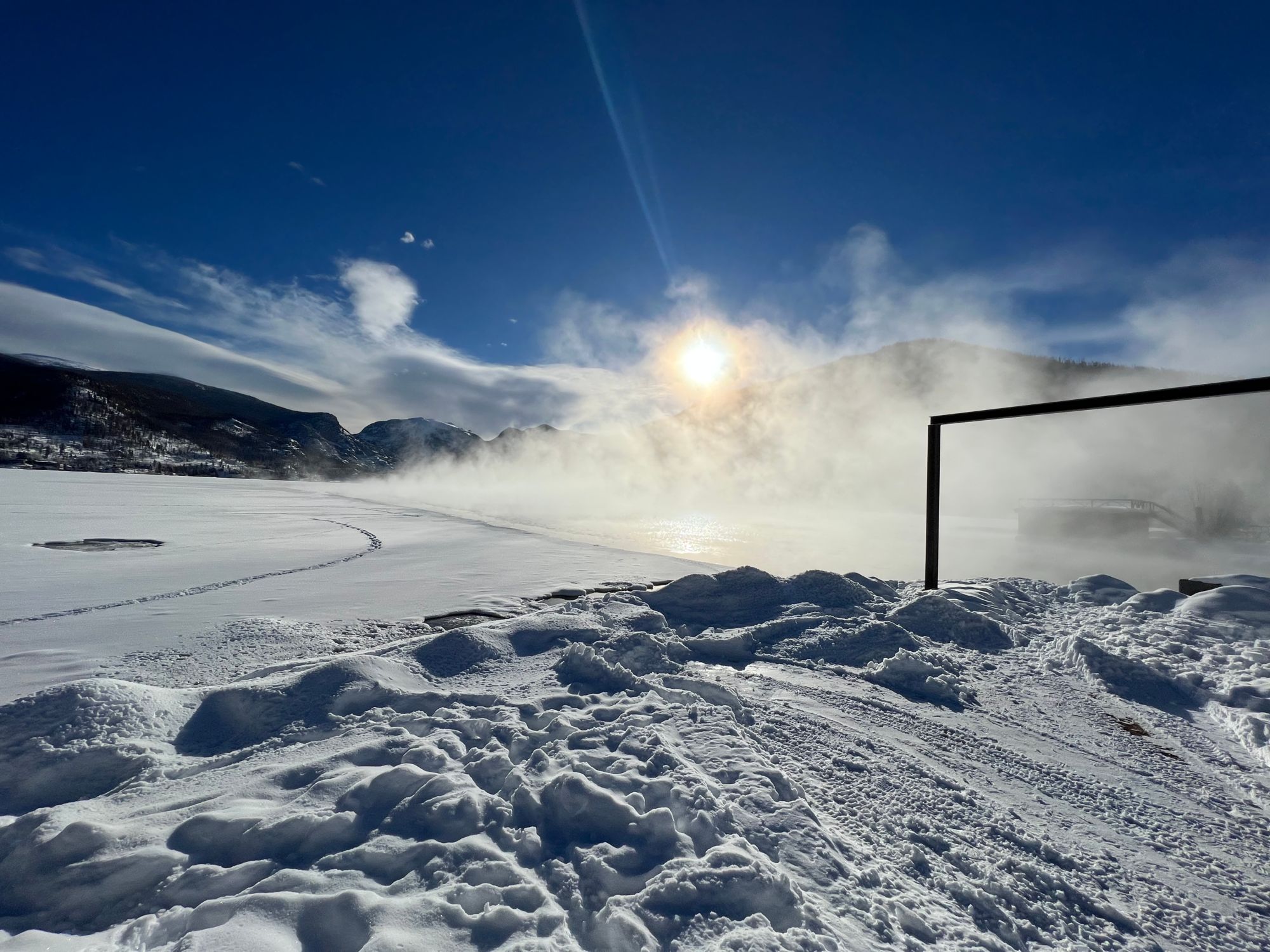 Events to enjoy this winter:
Trail Ridge Road is open 10 miles up throughout the winter. The road will open all the way to Estes Park around the last week in May!​
​

Every Saturday:

Ranger led snowshoe hikes in Rocky Mountain National Park. Advanced 9am, Beginner 1pm call 970-586-1513 for a reservation nps.gov/romo

Every Sunday:

Ranger led snowshoe hikes in Rocky Mountain National Park. Beginner level 1pm call 970-586-1513 for a reservation nps.gov/romo

January 27th-29th

: 3 Lakes Ice Fishing Contest destinationgranby.com

January 28th:

Kauffman House Museum Tours (Treat included!) from 1pm to 4pm

January 28th:

BINGO and Soup Supper 4:30pm at the Grand Lake Center 303-989-7830

February 4th:

Pond Hockey on Grand Lake! Begins at 9am. gograndlake.com

February 18th:

Snowmobile Poker Run, benefit for Flight for Life 9am. 720-425-1309 gograndlake.com

February 18th:

Tightline Outdoors Ice Fishing Tournament gograndlake.com

Wednesdays

@ 1:00: Virtual Reality for seniors at Juniper Library gcld.org

Daily at the Grand Lake Center:

A variety from pickleball, yoga, linedancing, cardio classes and gym access! grandlakecenter.com

Thursday-Monday:

Grand Lake Nordic Center for cross country skiing, snowshoeing and free tubing hill! grandlakerecreation.com

March 19:

Sketch in the Wild (hike the Tonahutu Trail and sketch together) 9am-2pm. rockymountainfolkschool.org
Grand Lake Center, formerly the site of our elementary school, offers year round activities:
Moose up Road 4 on January 7th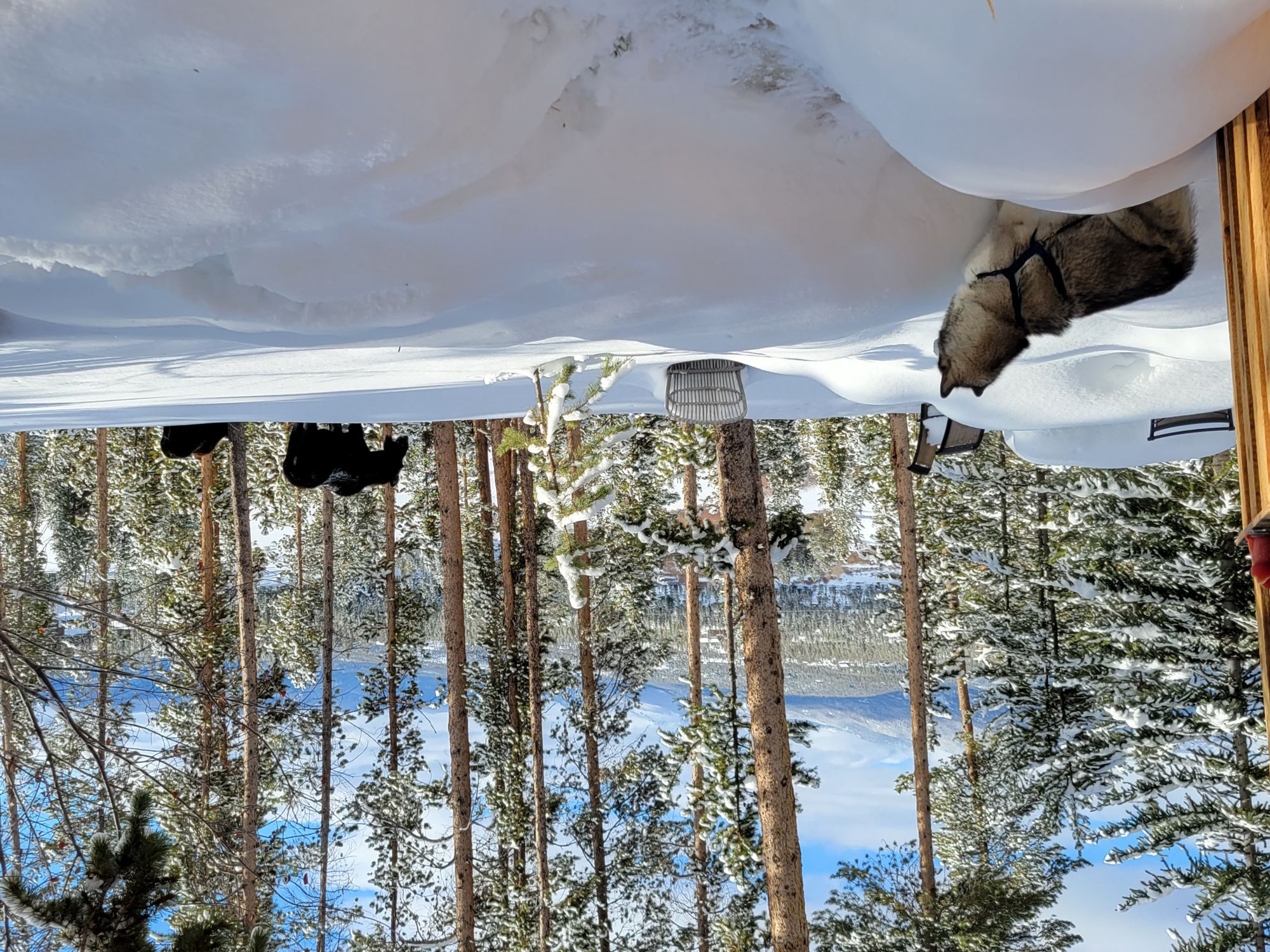 Grand Lake has been treated to amazing live theater for over 50 years.
The actors and those behind the scenes are professionals from out of the area.
June through August 2023: Alternating nights


Beautiful, Pirates of Penzance, Something Rotten




Visit RockyMountainRep.com

Call 970-627-3421 or purchase tickets online
We are now accepting

submissions

for the Dogs of Grand Lake Calendar 2024!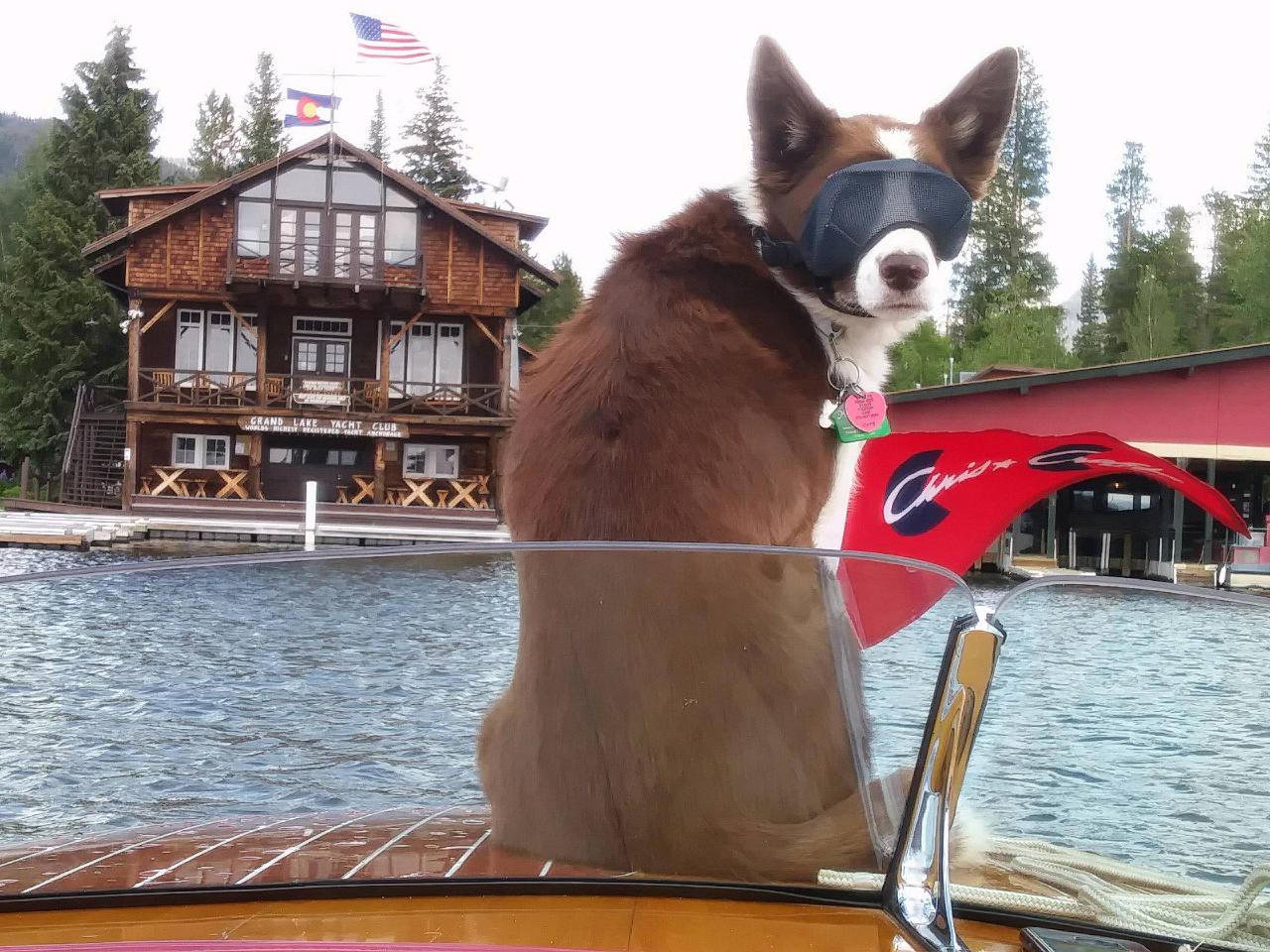 Rules
- Furry friends must be from the town of Grand Lake or have lived in the Grand Lake area for a significant period of time.
- Extra credit if your pooch is posing in a famous or recognizable Grand Lake spot (ie. Baldy in the background, swimming in the canal under Rainbow Bridge, on a boat on the Fourth of July, etc.)
- No humans in photos, please
- Dogs of Grand Lake's Past are welcome as well!!
- You must submit your contact information with your photo(s) and acknowledgement/ permission for Mountain Lake Properties use of the photos and caption, if we choose
- Submissions must be received by the end of August 2023.
- Please send all photos to julie.mtnlake@gmail.com or call 970-627-3103 with questions
GrandLakeCollection.com
features 10 songs about the Grand Lake Area.
Free flash drives with the entire album are available upon request.
Chords and lyrics can be provided for you to perform the music on your own!
Click here
for a list of Benevolent Organizations and more recreational activities in the area
For the most current Trail Ridge conditions, call 970-586-1222.
Reservations are needed to enter the Park at any location between 9 AM and 3 PM. You may enter the park before 9AM and after 3PM without a reservation- park pass fees are still applicable.
Village Activities
From ice-fishing on frozen lakes under an azure blue sky to hiking to the top of Mount Craig
(or "Baldy" as the locals call it), enjoying a dip in the cool lake or watching professional musicians perform in Broadway musicals in our Repertory Theatre after shopping and visiting our historical sites, Grand Lake provides activities for any adventurer.
Ranger-led snow treks
Ranger talks
Trail Ridge Road is open for ten miles past Grand Lake!
Video Presentations
Visitor Center
Wildlife
National Forest maps and annual and lifetime recreation passes that cover fees for National Parks and National Forests can be purchased online through USGS.gov. These passes cover use fees for Arapaho National Recreation Area, or ANRA-only passes can be purchased through recreation.gov. Passholders are still required to make reservations and purchase permits for campgrounds and other sites as necessary on recreation.gov.
Recorded information is available on our Forest Information Line at 970-295-6600. If you have further questions, please email us at VisitARP@usda.gov.


Campground reservations are available online six months in advance at recreation.gov, so visitors looking to book for the peak summer season need to start planning now.